By Charlotte Burns
If you've ever shopped for homewares, chances are you have heard the name Pete Cromer. His outrageously colourful designs are hard to miss, and it's easy to become entranced in the level of detail of each artwork. 
For Cromer, it took ten years in the corporate jungle as a graphic designer before he took the leap into becoming the full-time artist-at-work that he is today.
"There wasn't a plan," Cromer said, "but I gave myself a year to test and to try things out and to see if I could make this a full-time career. It was this time in my life where it was like if I don't do it now, I won't, and I didn't want to have any regrets in the future. It was scary to take the leap, but I am glad I did it." 
That first year flew by, and since taking that leap, Cromer has sold out galleries of work before opening night, licensed his designs to national homewares brand Maxwell & Williams, designed a UooUoo for the Royal Children's Hospital Foundation and illustrated multiple books on Australian Wildlife. 
The opportunities presented themselves in a fashion that Cromer could choose what projects he worked on and who he collaborated with. Sticking true to themself and what inspires them is a standard practice for Cromer. Cromer's works often feature Australian wildlife and in particular Australian birds. 
"I love birds, and the birdlife in Colac is incredible," Cromer stated.
"We see pelicans every day, black swans, galahs, kingfishers and rosellas. Each day there are different birds. They are just amazing animals to watch, and their personality is hilarious so there is heaps of inspiration for my artwork."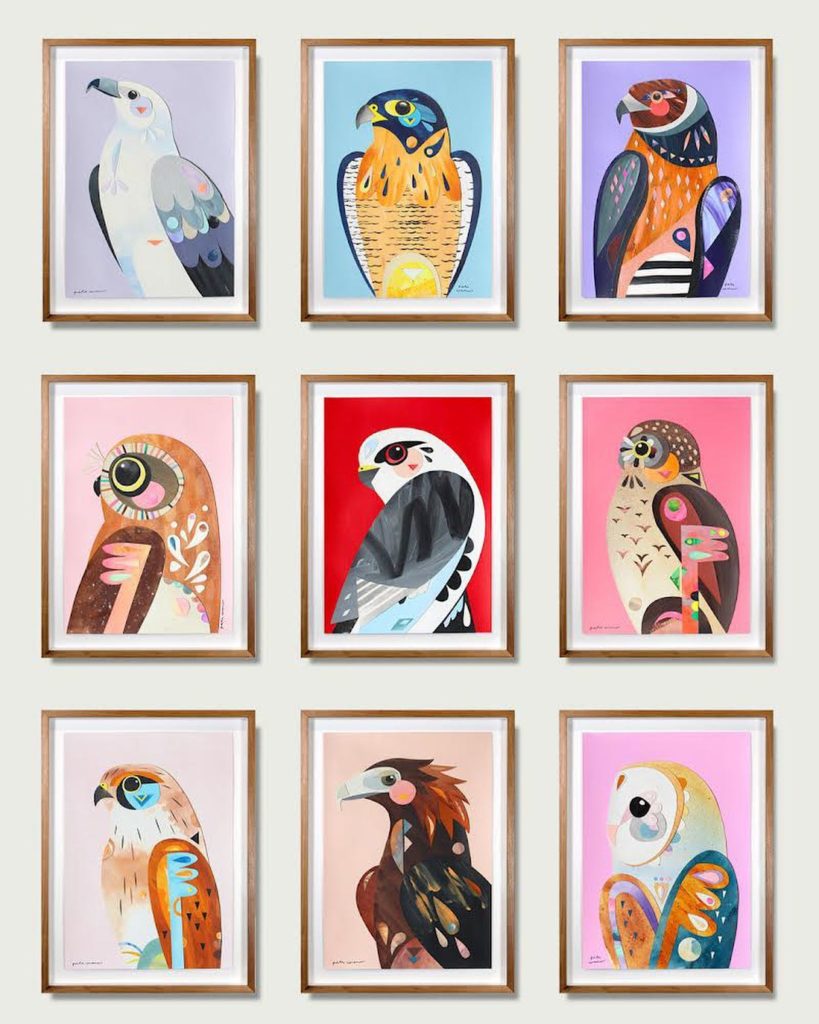 Cromer's latest open gallery, "Birds Of Prey" in Fitzroy, featured the birds in a way that is unlike any other depiction of the animals. They are characterised to be fun, playful and even a little mysterious. Explaining his thought process, Cromer says that he has heaps of ideas in his head but that these pieces take time because of the thought, consideration, embodiment and deliberation with the structure of each piece.
"Some people think it is just cut and paste, but when I place things I consider it, and I change it. I feel this need to issue them properly and give each piece my full attention. In my head, there is this big list and when I do finish a set of works, it's ok which one am I going to focus on next?" Cromer says.
While it sounds like he never stops working, Cromer humorously comments he struggles to stick to deadlines and tries to prioritise a healthy work-life balance to avoid creative burnout. He credits the freedom an artist has and his online store for his ability to live and move to new inspiring places. 
"We're currently 10 minutes away from the Otways, and we live near Lake Colac; it's a beautiful part of the world. We are yet to explore the town too much because of COVID-19 and I am not sure I am ready for people yet," Cromer jokes, "I haven't seen anyone in ages."
Turning his artwork into a successful business hasn't just been the result of corporate collaborations.
"I usually do markets throughout the year however, the last two years they have been cancelled. Social media has provided me with a lot more visibility. This has seen my online sales increase because there was an increase of people being at home looking for bright and colourful things."
Staying rather humble about everything, Cromer mentions that his business has grown exponentially. He has recently hired someone to follow up on admin work freeing up his time to create art.
"It was a little scary at first, but it has been extremely beneficial."
Eight years in, it seems unreal for Cromer that he is a full-time artist and that he is thriving in something he loves. But just like at the start of his journey, Cromer has no outright plans for the future, just "lots of to-do lists which keep getting longer," he says.
Cromer's advice for artists considering going full-time is to just "give it a crack and don't overthink it. And make sure to utilise other people who aren't in the creative background as you can't do everything yourself."
For locals and art enthusiasts, Cromer emphasises that they get out and explore the thriving art community in Geelong. So what are you waiting for? You can check out his latest product releases on his website or follow him on Instagram@petecromer to keep up to date with gallery openings and markets he is attending. Just be quick – his work sells out fast!